---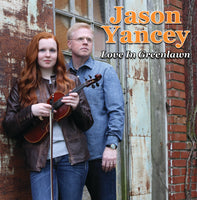 Jason Yancey's debut bluegrass cd includes a couple new songs plus some bluegrass favorites.  Featuring Jason's daughter Victoria Yancey, Kenny and Amanda Smith, Ronnie Rouse, Ned Luberecki, Megan Lynch Chowning, Noam Pikely, Mark Fain and Adam Steffey. 
01 Turkey Buzzard
02 I Feel Like Travelin' On
03 Ride The Five written by Jason Yancey
04 The Water Is Wide
05 Clinch Mountain Backstep
06 Love In Greenlawn written by Jason Yancey
07 You're The One
08 Shenandoah Valley Breakdown
09 House Of Gold
10 Ookpik Waltz
11 No. 7 Flathead Medley (Ned Luberecki, Noam Pikelny, Jason Yancey)
12 Angelina Baker 13 In My Life
The cd is produced by Kenny and Amanda Smith.